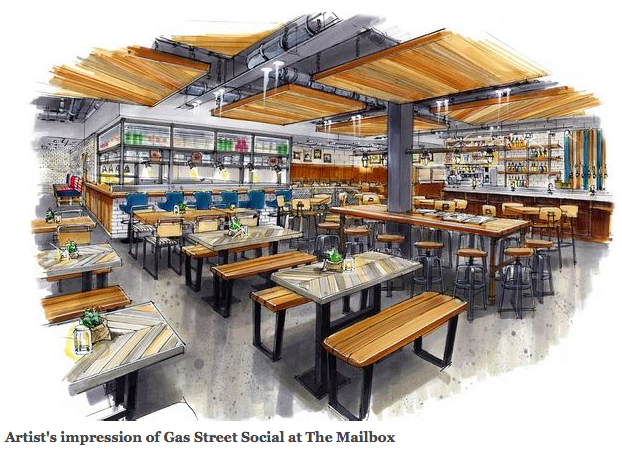 You don't buy a dog then bark yourself. I should know as I've got two big ones and you'll never catch me barking!
So I love it when a new client hires us, then genuinely listens to and adopts our thinking and opinions on how to transform their space into a profitable place.
And it's doubly satisfying when the client already has a wealth of experience in bars, casinos and venues from London to Johannesburg via Dubai and big plans to roll their new concept out across the UK.
That's how it's been from day one with husband and wife team Adam and Theresa Marie Freeth of Shaker Group and their new restaurant and bar in Birmingham's luxury retail and leisure destination, The Mailbox.
And that's how Pomp & Ceremony with all its quirky British eccentricity became Gas Street Social, an upmarket bar-restaurant inspired by Birmingham's cultural and industrial heritage that will launch to an expectant audience next month.
But I'm getting ahead of myself in the excitement, now that build has finally begun, heralding the final phase of the £750,000 transformation of the 4300 square foot former Bar Room Bar venue.
Adam first contacted us on a recommendation from a colleague and we met to develop the concept.  We became involved last March and did a lot of research into the demographics of the area before we ever thought about design.
That's how we work because it's got to be all about the customer and creating an experience that inspires them.  That's the approach that's transformed the fortunes of many a venue we've worked with over the past seven years.
So we develop a complete 'venue metamorphosis' incorporating not just a unique and intelligent design concept, but an entire new brand and customer experience based on location, demographics, history and image.
We then work with the customer to put together a finished brief and overview from both a commercial and customer's perspective taking into account budget constraints.
Only then do we create unique and intelligent designs that turn a venue into a commercially focused work of art that customers want to be a part of.
We then work with the client through detailed design and drawings, build and fit-out to ensure the initial brand vision is actually delivered.  And even on into aftercare and consultancy on staff selection and training, food and beverage quality and menus, marketing, finance and back office systems.
And so that's how it's been with Adam since day one. I don't want to give too much away with launch still a few weeks off but let's say that the design is true to the visual.
Word is already getting out via social media and the traditional grapevine and this is how the Birmingham Post reported it late last month.
That was when work began on site with main contractors Approved Shopfitting and Interiors after a full strip out of the entire two-storey venue, including all of the walls and staircases!
We've designed everything very open plan to give maximum views over the canal and the dramatic open kitchen so you can see your food being prepared.  We've gone for cobalt blue highlight in the venue against a muted colour scheme of industrial greys, metals and unfinished black steel features.
There's loads of quirky interior detail that we've had a ball assembling, including a distressed reclaimed bar front with a zinc top running along the right hand side of the ground floor. We've also added hand pulls made from recognisable tools from the trades of Birmingham; such as the jewellery and gun industry.
But that's all I'm going to give you for now.  You'll just have to check in for the next instalment of this blog and progress on the fit-out – and book now for the restaurant from 5pm on Thursday 19th March onwards.