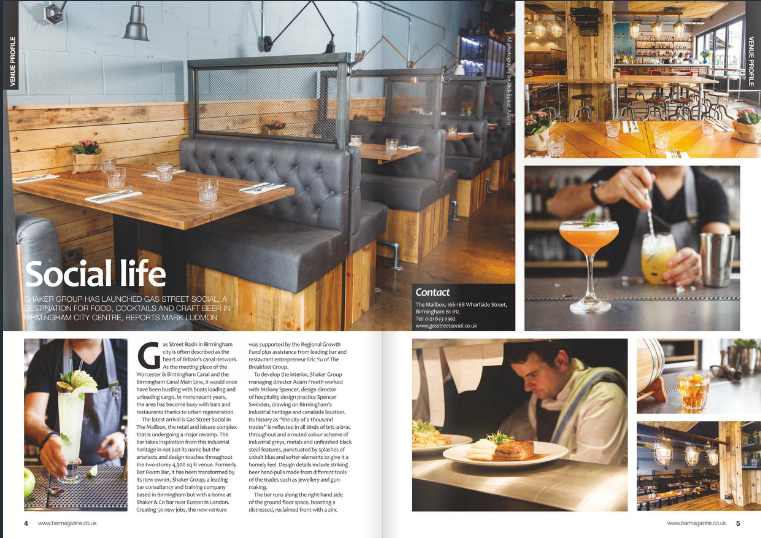 The latest issue of Bar Magazine is out now – with its main feature spread given over to yet more exposure for Birmingham's top new meeting and eating place Gas Street Social.
Editor Mark Ludmon has penned three pages on The Mailbox's latest arrival peppered with 10 stunning images – marking the latest publicity coup for the upmarket bar-restaurant set up by Adam Freeth's Shaker Group.
That follows whole forests of exposure in the likes of the Birmingham Mail, Birmingham Post, BigHospitality and Midlands Insider, and gigabytes of social media sharing and commentary.
But that's what clients have come to expect when they work with us, because of our stunning design that creates social spaces with crackling soul to draw in their target customers for experiences they crave and want to repeat again and again.
That's our passion – to 'transform spaces into profitable spaces' by designing venues that customers love which in turn deliver commercial results for the operator.
We do this by starting with the audience that a venue wants to attract, studying their nature and the competition. We then come up with a concept that will inspire customers to come and have a good time, to get people talking and to create loyalty, positive reviews and somewhere to return to.
So, as usual, we did lots of research into the demographics of the Gas Street Social area and audience and eyed up the rivals to look for a niche in the market before we designed anything.
Then, with Adam, we agreed on a modern bar-restaurant with a nod to Brum's industrial heritage and rich history using views over the canal network – more extensive than Venice.
With the concept confirmed, we could go wild on numerous quirky design details and a plethora of bric a brac artefacts from 'the city of a thousand trades'.
So, guests enter to be assaulted by the dramatic open kitchen with chef's table and hanging metal unit finished with reeded glass in the centre of the space.
A bar runs along the right hand side of the ground floor space and boasts a distressed, reclaimed bar front with a zinc top. Meanwhile the back bar is tiled using scaffolding boards, just one of the venue's features to boast upcycled materials.
We expressed the '1000 trades' theme further through a muted colour scheme of industrial greys, metals and unfinished black steel features, punctuated by splashes of cobalt blue throughout.
Impressive hand pulls feature recognisable tools from the trades of Birmingham, such as the jewellery and gun industry, as do (literally) off-the-wall knick-knacks.
We included varying height booths and seating for 120 diners with plenty of mingling space for those just sharing a few drinks to make Gas Street Social a vibrant venue that people enjoy. In addition, a large sharing communal table straddles a pre-existing structural column in the venue next to a grab-and-go coffee area.
It has all combined to create pre-launch hype and expectation, matched by bookings aplenty and rave reviews since, with customers sharing their ecstatic experiences virally.
All in all, the perfect recipe for a profitable new venue – which is all that we ever want to hear we've helped to create!